It is always exciting when someone reveals and confesses about their childhood crushes and when a Bollywood star does that, it is obviously a big thing even if it is because their movie is about to release soon. So recently, Tiger Shroff revealed that when he and Shraddha Kapoor were in school, he had a huge crush on her and this has left people and fans stunned. Tiger and Shraddha have starred in the Baaghi films together and have some good chemistry on screen but the fact that Tiger had a crush on his co-star makes things even more exciting. Their fans have shipped them since some time now mainly because the pair looks good on screen and have some chemistry with each other that shows in their performances which is why this is not their first film together.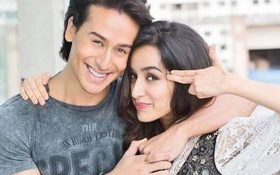 In a recent interview where both the actors were present to promote their upcoming movie, the interviewer asked a question to Shraddha and surprisingly it was Tiger that answered and left his fans blushing.Tiger disclosed a little secret from his school days and said he had a crush on the actress, who was in the same school, but he never confessed how he felt because he was scared. During the interview, when Shraddha was asked if she ever had a crush on Tiger, the actor interrupted and said: "Nahi ulta tha, I used to have a huge crush on her in school." Totally surprised Shraddha Kapoor then replied: "Mujhe pata hi nahi tha. Agar pata hota toh I could do something about it."
When asked why he never told her about his feeling, Tiger gave a very hilarious reason: "Meri bohot phat ti thi. Bas dekhta tha. Not in a creepy way but main bas door se dekhta tha." Tiger then talked about the way he used to adore her when she used to pass him in the hallway of their school: "Jab woh pass karti thi hallway mein toh uske baal udte the". "So cute," said Shraddha, who couldn't stop laughing.
The two seem to have become close friends since the past few years and their pair is loved on screen as well. This new revelation has just helped fans ship these two even more. However, Tiger Shroff has been in a relationship with actress Disha Patani for a long time and this is nothing but a childhood crush that the actor reminisced about in an interview while promoting the film with Shraddha.

Not long ago actor Varun Dhawan who last started with her on Street dancer 3 also said on a TV show that many years ago he also had a crush on Shraddha Kapoor. It seems like whole Bollywood is crushing on Shraddha Kapoor suddenly. Also Baaghi 3 releases soon on March 6 and so this could be a way of promoting the film as fans love something like this.
1629 total views, 2 today