Suneel Darshan always preferred to play it safe with his conventional genre of filmmaking and leave the innovation to the likes of other directors. In Shakalaka Boom Boom, he sets the whole desi feel aside and has touched upon the likes of contemporary Indian audience. Shot extensively in Johannesburg with the music industry as its backdrop, Shakalaka Boom Boom is young, hip and happening.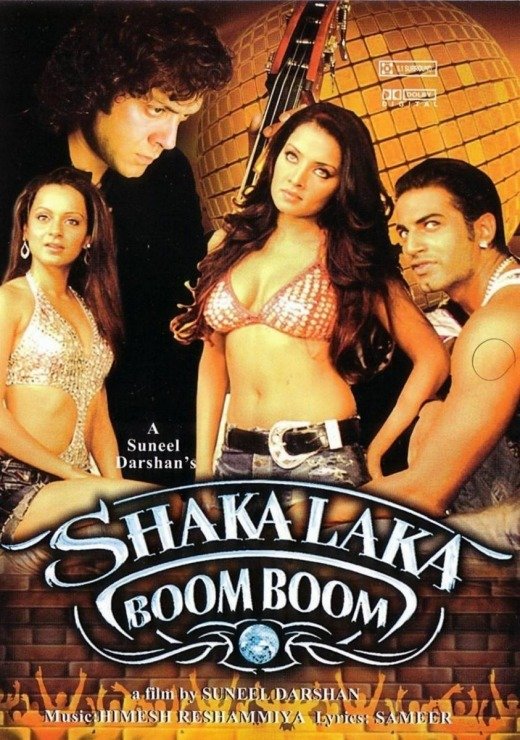 AJ (Bobby Deol) a music composer and singer is the superstar of the music industry in New York. He is the only dominant force in the industry. On the other hand we have Reggie (Upen Patel), a extremely talented but struggling newcomer. Reggie sleeps with Sheena (Celina Jaitley) to get the much-needed break. But soon he falls in love with Ruhi (Kangana Ranaut). AJ too loves Ruhi. The rivalry between AJ and Reggie starts when Ruhi chooses Reggie as her life partner. AJ is extremely jealous of the fact that Reggie is much more talented than himself. What follows is a story of Betrayal, deceit, jealous, conspiracy and competition between a legend and a talented newcomer.
Though the movie is about youngsters, it's nothing campus or just romance. The movie rummages into the thorny relationship of two dramatically different young men who have but one common objective – their passion for music.
Direction – Suneel Darshan fails to keep up your interest level in the first half. He actually takes the entire first half to get the rivalry going between the two music composers. The second half has been handled with a lot of maturity. Himesh Reshammiya's well-complimented music adds spark to the movie. The cinematography is good.
Acting – Bobby Deol – Impresses big time. Handles the complex role with great maturity and delivers a great performance. Watch out for his facial expressions in the second half.
Upen Patel – Hams in the first half but is superb in the later half of the movie.
Kangana Ranaut – I was actually expecting a great performance yet again from this talented actress but she disappoints in a role, which has no scope for histrionics.
Celina Jaitley – Her role demands nothing but to flaunt her body and she does it well.
Overall
Positives – Stylish movie. A good second half. Great performance by Bobby and top notch music by Himesh Reshammiya.
Negatives – The first half bores. 20 minutes can be easily trimmed off from the first half for better impact. A disappointing ending to the movie.
Box office Prediction – The fact that India is out of the world cup could help the movie at the box office. Also the great music and promotion should ensure the movie does reasonably well.
1235 total views, 1 today