Donald Trump's India visit has been a hot topic of discussion in the country and the internet has not had a break since then. From his speech at the Namastey Trump event, to his horrible pronunciation of Hindi words, everything has been in the spotlight. Trump came to India accompanied by his wife and first lady Melania Trump and his daughter Ivanka along with her husband.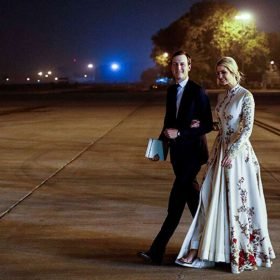 This was Ivanka Trump's second visit to India and last time her fashion choices fell into a bit of debate for some people as she mostly chose American designers and their outfits. This time however, Ivanka was ready with her range of Indian outfits designed by Indian designers themselves and she simply won the fashion game. On one hand where the first lady Melania chose some mature and high fashion outfits, Ivanka also chose comfort and effortless designs.
The designers that she opted for included two of India's finest and most popular fashion designers namely Anita Dongre and Rohit Bal. She opted for a full-length anarkali suit from Rohit Bal that came replete with the designer's signature floral embroideries. The floral ensemble featured a bandhgala-style collar, and came with a front slit and intricate embroideries with gold wire on the sleeves. Ivanka's outfit is from Rohit Bal's famous 2018 Guldastah collection which was a tribute to his hometown of Kashmir. The collection features the magnificent beauty of the flowers that are indigenous to the Valley. The designer has said in an Instagram post that the collection "Guldastah is very close to my heart and I have used flowers of Kashmir… sunflowers, poppies , tulips and peonies. This collection is both sensitive and ornate with an underlying sense of luxury interwoven in its many layers. It's my interpretation of absolute beauty in its purest form".
For the ceremonial reception of Donald Trump at Rashtrapati Bhavan on February 25, Ivanka went all Indian. She embraced an ivory sherwani, made out of handwoven Murshidabadi silk, from the shelves of Indian designer Anita Dongre who is famous for her graceful Indian designs that are a favourite among Indian as well as foreign celebritites.
The dresses were simple and not at all over the top and this helped Ivanka maintain a classy look throughout her time spent on this Indian trip. She kept her style elegant and classy and even gave some homage to the nation she was visiting. Also, the dress that she wore while visiting the Taj Mahal was the one she had also worn to her visit to Argentina. This made a strong statement in terms of sustainable fashion as most celebrities don't repeat their clothes. That was a right step in the direction of sustainable development. Her style has impressed most people and she carried herself with a lot of grace as well.  Her father on the other hand stuck to his business suits the whole time and didn't even make any efforts to learn how to pronounce the Indian names in his speech.
1348 total views, 3 today