How to Become a Model
Let us help you to understand how to become a model and how to start modeling in India. Read all the details below carefully as these details will help you to get complete insight to start your modelling career and to become a model in India.
Learn how to become a model | How to start modeling
Here's a guide on how to become a model:
Build Your Portfolio: Start by creating a portfolio of professional photos that showcase your looks and versatility. You can hire a professional photographer or ask a friend to take your pictures. Be sure to include a mix of headshots, full-body shots, and shots in different outfits or styles.
Get Trained: Modeling requires proper training in posing, walking, and facial expressions. Enroll in a reputable modeling school or take classes with a professional model trainer/groomer.
Find the Right Agency: Research modeling agencies in India and choose one that has a good reputation and a track record of success. Look for agencies that represent models in your age and gender category and submit your portfolio for consideration.
Attend Auditions: Once you've found an agency, attend auditions for fashion shows, TV commercials, print ads, and other modeling gigs. Be prepared to showcase your skills and personality in front of casting directors.
Build Your Brand: Develop a strong personal brand that showcases your unique personality and style. Create a social media presence and post regular updates about your modeling work, as well as behind-the-scenes glimpses into your life.
Modeling Network: Attend industry events and network with other models, photographers, and industry professionals. Build relationships and leverage your connections to find more modeling opportunities.
Stay Professional: Always conduct yourself in a professional manner, be punctual, and follow instructions. The modeling industry is highly competitive, and maintaining a good reputation is key to success.
Becoming a model in India takes hard work, dedication, and persistence. By following these steps, you can increase your chances of breaking into the industry and achieving your modeling dreams.
What are the types of modeling in India?
View details
Modelling is a very interesting, creative, lucrative and glamorous career option. If you plan it right you can get tremendous name, fame and money in it.
A person who plays a role to promote, endorse or advertise a product or service is called a model and the work is called modelling.
Types of modeling in India
In India most of the freshers think modelling means walking on the ramp and doing fashion shows only. Please note that it is just a very small part of modelling. As a model you can do many more things like –
1. Ramp / Fashion Shows
2. Print ads / Catalog shoots
3. E-commerce / Website shoots
4. TV commercials
5. Look Books for fashion designers
6. Fine art / artistic nudes
7. Music videos
8. Short movies / Internet viral videos
9. TV serials
10. Feature films / Regional movies
… and more.

Qualities to be a good model ?
View details
Let's discuss what do you need in yourself to be a model.
To become a successful model, there are several important factors to consider. Firstly, having a genuine passion for modelling is crucial. It's not enough to simply be told that you have potential – you must feel a deep desire to pursue this career path and be comfortable in front of the camera.
Secondly, your physical appearance and the way you carry yourself are critical. While there is no one-size-fits-all ideal body type, you should maintain a fit and healthy physique that suits your unique features. A pleasing personality, good grooming habits, and a confident attitude are also key traits that can help you stand out in the modelling industry.
Speaking of confidence, this is another essential attribute for a successful model. You should be comfortable meeting new people and networking, and have the self-assurance to wear a wide range of clothing styles with ease.
Finally, having some level of skill or talent is also important. You should be comfortable posing in front of the camera, and be able to express a range of emotions and moods to convey a variety of looks and styles.
By cultivating these attributes and working with reputable modelling agencies in India, you can begin to build a successful career as a model. With dedication and hard work, you can achieve your goals and become a top model in the industry.
Now if you have all these then the steps to start modelling are as follows :-
Step one – Contact top modelling agencies and fashion photographers.
They will evaluate you and tell you if they think you are fit to enter modelling.
Step two – Get a professional portfolio done from a top modelling agency or top fashion photographer only.
For portfolio charges visit this
Step three – Meet different modelling agencies and show this portfolio to them. The person who does your portfolio will help you in this.
These modelling agencies show your portfolio to their clients and if you get selected, then you get work.
Here are some modeling tips for fresh models on how to become a model.  
Body & Height requirements to start modelling career in India
View details
How to become a male model: If you're considering becoming a male model, it's important to understand the physical requirements of the industry. While many people assume that male models need to have a bulky, muscular physique with six-pack abs, this isn't necessarily the case. Instead, male models typically need to have a fit and lean body with good proportions.
While having well-defined muscles can be a plus, it's not a strict requirement. In fact, having too much muscle mass can sometimes make it more difficult to fit into certain types of clothing or to achieve certain poses for photoshoots. Instead, a model's body should be proportional and in good overall shape.
Of course, physical appearance isn't the only consideration when it comes to becoming a male model. Personality and confidence are also important factors. A model should have a pleasing personality and be able to exude confidence in a variety of situations. This includes being comfortable in front of the camera and being able to take direction well from photographers and directors.
How to become a female model: When it comes to becoming a female model, it's important to note that a zero figure is not a requirement. In fact, in today's market, advertisers and clients are looking for models who have a fuller, proportionate and pleasing personality. While a flat figure may be in demand for runway and high fashion shoots, it's not necessary for commercial and print advertisements.
So, what kind of figure should a female model have? Generally, a good figure for female models would be around Bust: 33-36″, Waist: 26-28″, and Hips: 33-36″. However, it's important to keep in mind that your bone structure plays a role as well. Ultimately, having a healthy and confident appearance, with a proportional body, is more important than conforming to a specific set of measurements.
What is the minimum height required for models in India ?
If you're interested in becoming a model in India, you may be wondering about the minimum height requirements. It's important to keep in mind that the average height in India differs from other countries.
For male models, the minimum height requirement for ramp walks and fashion shows in India is 5'10" (178cm). However, for pageants like Mr. India and other assignments, male models must be above 5'7″ (171cm).
For female models, the minimum height requirement for ramp walks and fashion shows in India is 5'7″ (171cm). For print ads and commercial modeling, the minimum height for female models in India is 5'3″ or 5'4″ (162cm). Keep in mind that while height is important, it's not the only factor in becoming a successful model. Confidence, personality, and talent are equally important.
Which is the best city to start modelling in India?
View details
If you're looking to start your modelling career in North India, then New Delhi is undoubtedly the best place to begin. Not only is Delhi the fashion capital of India, but it also has a thriving community of young and talented individuals across various fields. Additionally, Delhi is home to the prestigious National Institute of Fashion Technology (NIFT), making it the central hub for fashion learning.
What's more, Delhi hosts a variety of fashion events and weeks throughout the year, attracting numerous buyers from around the world. The city's fashion industry has an international feel, making it an ideal place for aspiring models to gain exposure and make a name for themselves. So, if you're looking to jumpstart your modelling career, then Delhi should be your first choice.

You can find various modeling agencies in Delhi. NewIndianModels is considered as the top modeling agency in Delhi.
If you are an aspiring model based in East India, then Kolkata is the place to be. Kolkata has a dynamic fashion industry, with numerous fashion shows, photoshoots, and events taking place throughout the year. The fashion industry in Kolkata is known for its traditional and ethnic wear, and there is a high demand for models who can carry off these looks with grace and elegance.
For those in the central and southern parts of India, Bangalore is a great place to start a modelling career. Bangalore is one of the most cosmopolitan cities in India, with a diverse population and a thriving fashion industry. The city is home to several fashion events, including the Bangalore Fashion Week, and there are numerous modelling agencies and studios that you can approach to kickstart your career.
Each city in India has its own unique fashion culture, and it is important to understand the market before starting your modelling career. By choosing the right city to start your journey, you can maximize your chances of success and find the opportunities that are best suited to your talents and interests.
Mumbai is widely considered the hub of the acting industry in India. With numerous production houses, casting agencies, and studios, the city offers a plethora of opportunities for aspiring actors and models alike. Once you have gained experience and built a portfolio in modeling, Mumbai is the perfect place to explore further opportunities in the entertainment industry, such as movies, television serials, and music videos.
How to choose the right modeling agency ?
View details
Here are some key pointers that will help find the good modeling agencies so that you will know "How to become a model".
If you are starting your modeling career then always get your portfolio and promotion done through the agency that has lot of experience in helping freshers. Don't go for agencies that deal with top models until you gain some experience and have made good contacts.
Verify the information like name address, phone number, website etc. of the agency and since when they are in business.
Reputed modeling agencies give you time to think before you say yes to work or portfolio shoot, while the fraud ones use pressuring techniques.
Usually the fraud agencies will promise you instant work or higher payment than what a fresher deserves. Be careful of such modeling agencies.
How much can I earn in modelling ?
View details
It all depends on you. There is no minimum or maximum limit in this industry.
To get modeling assignments you should have talent and passion.
You should be hard working, smart, friendly and most importantly should know how to make the right contacts.
The freshers start with Rs.2000-3000 per day's modeling assignment.
If you are good, you reach Rs.10,000 to Rs.15,000 per day in a years time.
It all depends on the type of shoot and the client's budget.

How does NewIndianModels help models?
View details
NewIndianModels is the most popular website for model promotion and visibility.
To use NewIndianModels.com for model promotion and visibility, you can create a profile with your details and photos. Once your profile is published on the website, it will be promoted to thousands of fashion, advertising, and casting professionals in the industry through email and social media.
You can also browse through modeling assignments posted by advertising agencies, production houses, casting directors, and fashion designers in the "Assignments" section of the website and apply directly to them. By using NewIndianModels.com, you can increase your chances of getting hired and make your mark in the modeling industry.

So do you have what it takes to become a model ? If yes, get in touch and we can help !
We are considered as one of India's best modeling agencies in Delhi, Mumbai and Bangalore.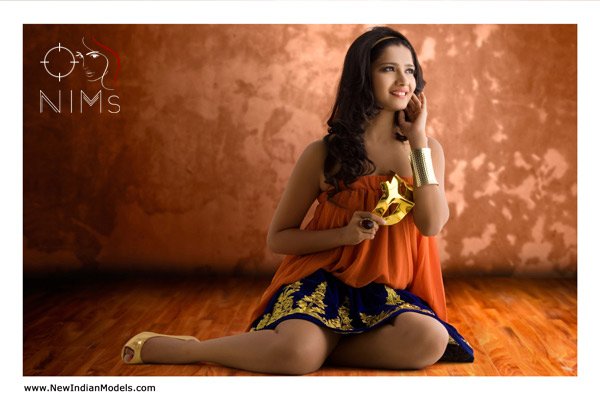 These modeling tips are about "how to become a model" and how to start your modeling career.
In conclusion, becoming a model requires hard work, dedication, and a lot of effort to build a successful career. It is important to have a passion for modelling, a pleasing personality, and confidence to face the camera. Remember that a good physique is an important aspect but not the only one. It is equally important to have skills, talent, and the ability to carry oneself with grace and ease. Choosing the right city to start your modelling career and networking with reputed modelling agencies can also help maximize your chances of success. With the right approach and opportunities, anyone can become a successful model.