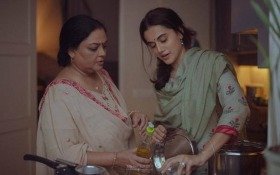 Anubhav Sinha's latest film starring the talented Tapsee Pannu has hit the theatres and on one hand where the film is getting high critical praise, it is not exactly a favourite among the masses. The film 'Thappad' deals with the sensitive issue of domestic violence along with many complex themes and maybe the masses are finding it hard to understand and appreciate it. The movie takes a simple story of a woman leaving her husband after he slaps her at a party and it showcases how our society is deeply rooted in patriarchy. Among the masses is another director famous for his over the top action flicks who is finding it hard to understand a movie as complex and intelligent as Thappad.
Choreographer turned Director Ahmed Khan whose film 'Baaghi 3' has just released as well, recently expressed his confusion on the story of Anubhav Sinha's film and said he found the topic strange. Ahmed Khan was quoted as saying, "I found the concept of Thappad very strange. I don't understand just because the husband slapped his wife, will she leave him forever? If she has a problem, she too should slap her husband twice in return.
"If I ever slap my wife, she can slap me back and end it. If I tell her that I don't want to be with her anymore, then she can also tell me the same. But, will a slap decide whether a couple can stay together or not? But then, everyone has a different point of view and way of looking at it."
It is possible that the director only made the comments to get some more limelight for his movie Baaghi 3 which is competing with Thappad at the box office right now. A lot of people have had debates on this topic and Ahmed Khan's views and it has proved that Thappad is definitely a thought provoking film which is starting a major dialogue in the current scenario. The star of the film Tapsee Pannu was asked for her reply to Ahmed's comments and the actress gave a sensible and intelligent reply. Taapsee was quoted as saying that she did not feel the need to respond to such a comment. She said, "He makes films based on what he finds correct and it is the same for us. At the end of the day, it is the audience who give out the final verdict."
"We have always seen relationships where there is love and respect. But, there might be those kinds of relationships too, of which he is talking about. He can continue to make films he is comfortable with. We will do what we are comfortable doing," she added.  This just shows that Tapsee believes in such projects and directors like Anubhav Sinha who are not afraid to show a mirror to the society. Films like Thappad are much needed in our society to create awareness and bring some empathy into our society.
1684 total views, 1 today